December 3, 2021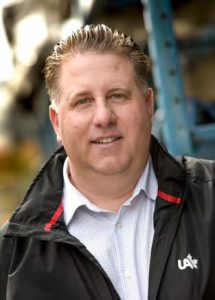 WHEN WE TALK about apprenticeship, we talk of the immeasurable benefits to the apprentice; the start of a lifelong and rewarding career with both on-the-job and classroom learning. Our Building Trades unions have led the industry in offering top-notch apprenticeship education through our union training centres. Collectively, our affiliates have over $50 million invested in training assets and equipment. Providing our future journeypersons with the most up to date equipment and facilities is critical in ensuring our apprentices are armed with the knowledge and relevant skills they need to successfully and safely perform their craft. The College of the BC Building Trades is the culmination and collaboration of all our respective training resources; bringing the best of the best together as a virtual learning portal with information and guidance for anyone wanting to explore or pursue a career in one of our construction trades. The main goal of the college is to offer all the support and mentorship necessary for our apprentices to succeed and I encourage you to promote this valuable resource to those who may be interested in joining our ranks.
Mentorship is an important part of any apprenticeship. Mentors teach what cannot be found in a textbook. In our industry, the journeyperson mentor ensures that apprentices emerge from their apprenticeship with a well-rounded experience and the knowledge they need to be effective, efficient and safe workers.
At the outset, the journeyperson mentor helps an apprentice navigate through their work world. For many, this may be their first time on a job site. They help apprentices learn and hone their practical skills by allowing them to perform new tasks under their supervision. Many of us have had the opportunity at some point in our careers to work with and mentor an apprentice. While ultimately rewarding, it requires a lot of work and patience; giving clear instructions, repeating key points, shadowing, watching mistakes happen, correct and repeat. While it is easier and faster as an experienced journeyperson to just do the work yourself rather than to give it to the new kid, this process is critical. It is our duty as journeypersons and union members to ensure the transfer of on-the-job knowledge to those coming up behind us.
A journeyperson mentor not only helps an apprentice with their practical skills, they often share information about their own career path, provide guidance, motivation, support, and role modeling. Some of the best stories I have heard throughout my career came from journeypersons who mentored me. Most were stories of success with great outcomes against unsurmountable odds, but even more memorable to me were the not-so-successful stories. Those were the takeaway lessons that you remembered on the next job, with this foresight making all the difference.
The sharing and transferring of knowledge by mentoring our apprentices and journeypersons have never been more important. The construction industry in Canada is expected to lose close to  250,000 skilled tradespeople to retirement over the next 10 years and the millennial generation (those born after 1980) who value support, inclusion and mentorship when choosing an employer, currently account for almost 40 per cent of our workforce. It is through our collaborative efforts in mentoring our apprentices that we as trade unions will attract future journeypersons and successfully preserve the skills and knowledge of our crafts.
By Al Phillips
President